Based in West Wales, 36-year-old Matt runs a successful business as a tree surgeon. He named it 'Cope Y Coed', which means 'Cope of the wood' in Welsh and is also a nod to his Navy nickname of Copey. He is fully booked most weeks, and still feels a sense of amazement every time he completes a climb. But he is making sure he has time off to spend with his wife and two young children.
I can't quite believe how far I've come; I never dreamed I'd be able to do something like this.
During Navy sporting activity, Matt injured his left leg and hip in 2010 and, despite numerous operations, was left with a severe limp and ongoing pain. While in hospital recovering from one of the surgeries, he caught the E. coli infection, making him very ill and leading him to develop a fear of germs. Matt was eventually diagnosed with obsessive compulsive disorder, depression and anxiety.
Matt was due to be medically discharged from the military in the summer of 2015. He was told by an Army and then civilian doctor that he would most likely need to be signed off work indefinitely. Alternatively, at best, all he could hope for was a sedentary, desk-bound job. For someone who had joined the Army reserves and then the Navy, precisely because he wanted to be active, this was a difficult verdict to accept. It seriously affected his mental health.
In the months leading up to his medical discharge, Matt got involved with Wiltshire Wildlife Trust's Wild Connections project and took on the challenge to build an Iron Age roundhouse at Tedworth House. This turned out to be life changing.
"The roundhouse project was brilliant. We had experts teaching us all kinds of skills, timber framing and thatching, as well as learning the history. It was hand built using traditional methods by a core group of 16 of us – serving and veterans, all with life-changing mental and physical problems.
I loved being outside and learning. I made life-long friends and as time went on I got stronger mentally and physically.
"It opened my mind to what I could achieve once I left the Forces and was instrumental in what I am doing now. The project was run alongside the Wiltshire Wildlife Trust and they invited me to try chainsaw training. Turned out I was quite good at it!"
While Matt was working on the Roundhouse he also completed a Help for Heroes Pathfinder course at Tedworth House. "The military-led transition programme was good, but Pathfinder was more holistic. It was instrumental in my recovery – giving me faith that I could have a career I loved after leaving the Navy. I went through a lot of emotions on the course, which was hard, but the psychological and wellbeing team at Tedworth House made sure I was looked after.
"Everyone at Help for Heroes promised: 'the day that you leave, we will be there for you'. I wasn't in a good place at the time and didn't believe them, but they have been. In addition to the Roundhouse and Pathfinder, I've been offered psychological support, the opportunity to retrain as a tree surgeon and help setting up my business.
"I still have bad days physically and mentally, but the Band of Brothers and my tree surgeon fraternity support me. We look out for one another like in the military. But, honestly? Without the project, I don't know where I would be now."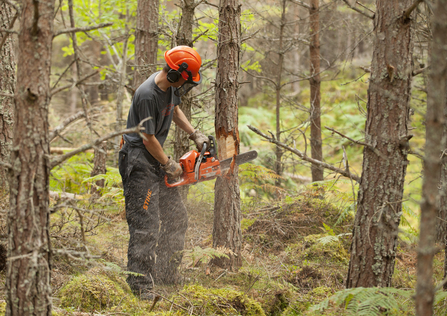 The Iron Age Roundhouse team – a group of wounded, injured and sick service personnel and veterans built an Iron Age Roundhouse at Tedworth House Recovery Centre to help improve their mental and physical wellbeing. The project helped 49 beneficiaries. See the film that tells their story here.
Wild Connections was a three-year project lasting from April 2015 – June 2018 run by Wiltshire Wildlife Trust. It enabled people of all ages from a variety of different backgrounds to enjoy, connect with, learn about, and care for their local nature and natural heritage. Over three years, Wild Connections has provided volunteering and training opportunities for military veterans through their partnership with Help for Heroes. Their work has impacted positively on local wildlife and people – with work undertaken to improve access to local nature reserves for people with disabilities; including new ramps, wheelchair-friendly paths and interpretation. Training sessions covered key skills such as brush cutting, chainsaw and first aid.
Find out more about the project here.