Around three years ago, I was asked by my work coach at a company called Actes, if I would like to start volunteering for the Tees Valley Wildlife Trust. I was told I'd learn things like the correct technique for starting a fire and this peaked my interest. I'd also be learning tree identification and a range of other outdoor skills. I said yes to this instantly, as I had always liked being outdoors and enjoying nature. Not just seeing the animals, but all the outdoors has to offer.
About two weeks later, I received a call from Mat Dove-Jones, the volunteer group leader. He informed me what would happen and asked me if I already knew anything about the Trust. I told him I thought it was the National Trust at first. Fortunately, this didn't end my volunteering experience before it had started! After a little discussion, he gave me a pick-up point and a time to meet him.
On my first volunteering session I was nervous about meeting Mat, but as more volunteers my age began to arrive on the bus, I soon calmed down. I slowly progressed to asking them what made them become volunteers for the Trust.
I think this is when my confidence started to change, beginning with small steps and working it up. For our first activity, we were at Bowesfield nature reserve, to do a tree identification activity. I found this task very enjoyable and learned a lot. It was the start of a very steep learning curve and some life changing events.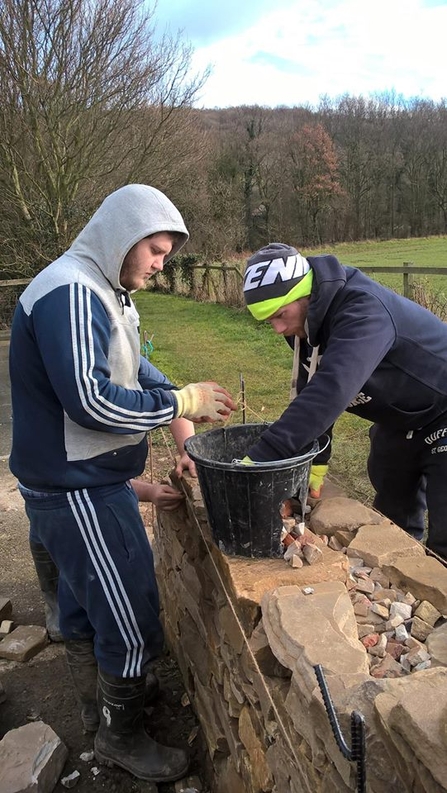 As the weeks went by, the work and learning became gradually harder, most particularly hand-digging the winter pond at Hardwick Dene. The pond was our main project for quite a while before we moved on to other things (such as willow weaving, bushcraft, tree felling and spoon carving) and really helped me get fit.
Slowly, the group of 14 we started with, dropped to four who finished the course.
Just before we finished, we met Becky who was looking for volunteers to join her One Planet Pioneers project. Myself, and one other lad from the original group, said yes. When we first worked with her it was just a simple walk around Maze Park nature reserve, where she explained what would be happening if we decided to join her on a regular basis.
Again, just like with Mat, the work started slowly and became harder and more of a challenge as time went on. After about eight weeks of volunteering I heard that Becky had four apprenticeships opening and asked if I was interested.
Middlesbrough Environment City (MEC), a project partner, hosted the interviews for the apprenticeships. Arriving at MEC on the morning I was fully prepared for my interview with questions I wanted to ask them. I was taken to a room for my interview where Becky and her boss, Steve, were waiting. I was quick to answer to the best of my abilities and was very happy when, after about a week of waiting, I received a call telling me that I had been successful.
When the apprenticeship began, the first week was slow; just me and three other apprentices. We got to know each other and one lad I had already known for a while as he had volunteered alongside me with Becky and Mat.
We found out that the year would include regular assessments on things like tree planting, tool use and maintenance, using and maintaining cutting machines like strimmers. We would be working alongside school groups, delivering the John Muir Award, as well as working at MEC Community action days every last Friday of the month. We were also told we would be studying a level 2 in Business Studies.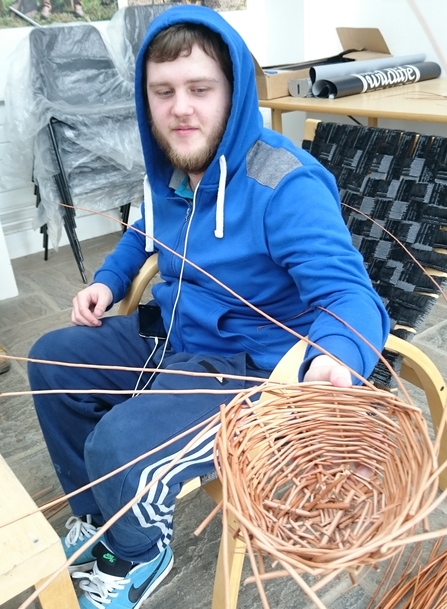 During my time on the apprenticeship I have gained a wide range of qualifications - pesticide spraying, first aid, brush cutter (steel blade use), correct tool use and maintenance, strimmer and lawn mower use and maintenance. I've also gained a level one in maths and helped with public events in the school holidays. I know these skills will be useful to me as I go on with my career in conservation.
Towards the end of my apprenticeship, I found out that the Trust had a new job position open up on a two-days a week basis. Me and two other apprentices applied for the post and faced a nerve-racking interview about a week later, which I thought I had failed.
Two days before the end of my apprenticeship, my phone rang. I originally thought it was a friend of mine, but instead it was the Trust's number and my heart began to beat a lot quicker, knowing it was the results of the interview. I answered to Jen Hagan, who said "I won't keep you waiting any longer", I simply replied with "Fire away Jen, I'm all ears". She told me I had been selected for the new role of Project Assistant. I thought the other two apprentices would hate me, but they said we were all good.
I began my new role on the 7th December 2017. My aim now is to recruit young people age 18-25 to join the Trust as volunteers. I also help any other staff members with anything they may require. I have been at the Trust, in one role or another, for almost three years, proving that hard work, commitment and passion does get you places, although it can be a slow and tough journey.
From what I knew then, compared to what I know now, my life is very different, and I personally wouldn't change a single thing along the way. I want to say a big THANK YOU to the staff for seeing and valuing what I have to offer. My highlights would have to be all the varied work, the Trust staff (who are all brilliant and very knowledgeable) and simply having the chance to work my way up from a volunteer, an apprentice and then to my new role as Project Assistant. Thanks for everything Tees Valley Wildlife Trust!
Written by Liam Holland, Project Assistant at Tees Valley Wildlife Trust.
The One Planet Pioneers project is one of 31 Our Bright Future projects across the UK. Each one is equipping 11-24 year olds to make a difference in their local community and for the environment. Our Bright Future is a £33 million programme funded by the National Lottery Community Fund.