Those rainy summer days don't have to be spent in the house. Take a trip down to a local reserve and get cosy in a bird hide. Bring a flask and a packed lunch too! Or in the sunshine, the shade can be a cool welcome from the heat.
From nesting ospreys to wintering bittern, hides nestled in the reeds or the woods help you blend in and get closer to wildlife. But it's not just birds that you can see from these hides: look out for otters or water voles if you're near water! The shyest, best, and rarest birds can be seen from hides, but get comfortable: you're going to need a lot of patience.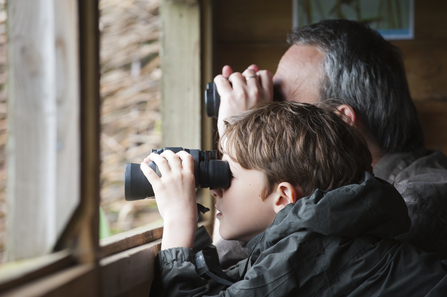 Bird hides are there to allow you to get close to wildlife, especially shy birds. Visit a local nature reserve and be surprised what you can see from a hide.
Don't forget your binoculars! You can help your little ones make their own binoculars!