I am 17 and adore nature and all things wild! I work with birds of prey which is not only extremely rewarding but an incredible challenge and great privilege. To see the trust and partnership I have been building with my birds unfold and to be a part of their journey, from their initial refusal to even stand on my glove at the beginning of the training, to flying free across a field to me when hunting is something that I love and cherish.
How it began
My family, including Mum, Dad, four sisters (of which I am second eldest) and two brothers, have been very pro nature since I was very small. We are all home educated by our parents and are very lucky to have the freedom to pursue any subject that inspires us. Mum and Dad took us on welly walks to splash through puddles and collect natural treasures such as autumn leaves, pinecones, acorns, twigs and shells.
We would then learn about these things and make some cool artwork that we decorated our house with. They helped us make bird feeders, bird boxes and bug houses to put in the garden so we could see what wildlife we had on our doorstep. From an early age we were all happy gently cradling worms in our hands and could identify woodlice and pillbugs.
Mum and Dad also took us to the Hampshire and Isle of Wight Wildlife Trust's Wildlife Watch Group at Swanwick Lakes, near Fareham, where we had lots of fun doing activities that the Watch Leaders, Carly and Michelle, had organised for us. Every session we had a different topic to learn about, from insects and making giant spiders and ladybirds out of toilet rolls and newspaper to pond-dipping, beach-art and birdwatching/identification.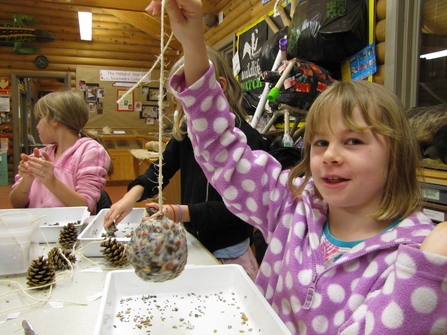 Gold Award
When I was eleven years old, my eldest sister Hester, next youngest sister, Rowena and I signed up to do our Gold Award with Wildlife Watch. This led to us completing set tasks such as litter picking, creating a nature area in our garden or making a poster to aid awareness for wildlife. For each task we completed we would earn a different colour badge. It took us about a year to achieve all the tasks and complete the award.
When we had finished it, the Trust held an award presentation for us, and we were presented with our Gold Badges by wildlife presenter, Chris Packham!
Nature Rangers Award
In 2014 at thirteen, Hester, Rowena and I started on our Nature Rangers Awards. For this we had to choose a topic focusing on British nature/wildlife and spend eighteen months studying it. We then put all the data we collected into PowerPoint presentations.
Hester chose bees and is now a beekeeper with three successful hives. Rowena studied the Emsworth shoreline, a section of shore we frequently walk along and sometimes even go crab fishing (we always release them all again though!). I chose to study birds of prey in Britain.
I learnt how to identify each species native to Britain. I learnt their unique hunting styles, chosen prey, plumage and habitat along with many more facts and figures.
I sat determinedly for hours with my camera trying to get some pictures to illustrate my data findings. We are lucky enough to have wild buzzards, kestrels and barn owls flying and hunting over the field opposite our house. I succeeded in photographing the buzzards perching on a fence post, a kestrel hovering and a barn owl skimming across the tops of the grass.
I was also fortunate enough to witness a female sparrow hawk chase a pigeon into one of the windows of our house. The pigeon then fell stunned to the ground and the sparrowhawk landed triumphantly on top of it and proceeded to eat it on our lawn!
I was astounded at how beautiful she was and quietly managed to get close enough, while staying a respectful distance away, to get some incredible pictures.
I wrote a short story about the experience for a BBC 500 Words Short Story competition. It was titled 'Smack' after the noise of the impact the pigeon made when it flew into the window. The story succeeded in reaching the second shortlist at judging.
Presentation and Award Ceremony
We finalised our PowerPoint Presentations and when we were happy with them, Carly and Michelle, the Swanwick Lakes Wildlife Watch Group Leaders, asked us if we would like to show them to the group! We practised speaking clearly, organised activities and ran through the presentations so many times that we knew them off by heart!
With three presentations to show in the same evening, my sisters and I ended up running the whole Watch Group session! Everyone was very inspired by our presentations and Carly and Michelle were impressed with our knowledge and bravery for standing in front of the group and showing them our work.
The Hampshire and Isle of Wight Wildlife Trust organised another award ceremony for us and invited Chris Packham to present us our Nature Rangers Awards. There were lots of people from the press there too and I even got filmed for the BBC news!
We stood at the front of the room with Chris Packham as our awards were announced. The announcer said I had done a presentation, shown it to our Wildlife Watch Group and had written a short story about how a male sparrowhawk had killed a pigeon on our lawn. I was a bit annoyed . . . the sparrowhawk had been a female . . .
I had spent ages studying birds of prey in Britain, learnt how to identify the species individually including plumage and size differences between the males and females. But this announcer had just gone and said that the sparrowhawk I had successfully identified as a female was a male!
Looking back, I may have been a bit impulsive and, some might even say, rude. But I have been taught to stand up for what is right and what I believe in and, so, if something does annoy me or get to me, I have to stand up and say it.
So, I interrupted the announcer, in front of the press, the TV crew and one of my all-time idols alongside Sir David Attenborough, Chris Packham, and told them all that the sparrowhawk that killed the pigeon on our lawn was actually a female.
The silence that followed my outburst was deafening. It lasted for what felt like a lifetime. Everyone stared at me, the girl who had dared correct an adult in front of such an iconic figure as Chris Packham. I just stood there, unfazed.
Chris Packham looked at me, seemed to nod slightly and a great big grin appeared on his face. Thankfully, he ended up breaking the silence by agreeing with me that these things are most important and noted the scientific name for a sparrowhawk, Accipiter Nisus.
Since then I have stayed in touch with Chris Packham via email and if I ever have the privilege to train a sparrowhawk, it would only be fitting for its name to be Packham.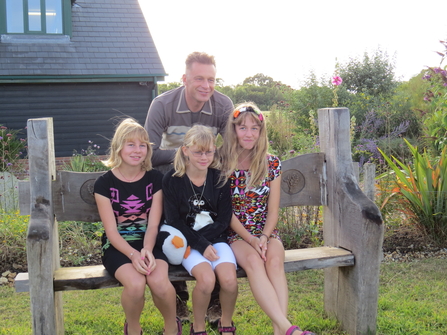 Falconry
During the eighteen months I spent studying British birds of prey, my family and I were frequent visitors to The Hawk Conservancy Trust in Andover. Here we were amazed at the awesome flying displays and the beauty of the birds as they captured the hearts of their audience.
It was at this point, the combined knowledge I had gained from my research and witnessing the birds up close, that I decided what I wanted to do in life. I wanted more than anything else to be a falconer and take my birds to people, inspiring them and educating them about how amazing wildlife is and how they desperately need our help and protection.
From that point on all I could think, speak and dream about were birds of prey, wildlife and falconry. I found out that The Hawk Conservancy hosted a Falconry course for enthusiasts looking to train their own bird.
The only downside was that at fourteen I was a bit young to attend and that the courses were only run in February and November. Mum and Dad, wanting to support my aspirations, wrote to the organisers of the course and it was agreed that I could attend the course the next November after I had turned fifteen.
In the year that led up to the course, I read every single falconry book I could find or order from the library. I taught myself how to tie a falconers' knot from a book and from YouTube videos.
I took on the responsibility of cutting up and preparing every piece of meat we had for lunch or dinner so I wouldn't be squeamish about the food I would be feeding the Birds. I keenly watched our local wild raptors (Latin for birds of prey meaning 'to seize') as I put the grisly offcuts of raw meat leftover from dinner out for them to eat.
The Lantra Beginning Falconry Award Course
The course ran for four days, and the night before the course I don't think I slept a wink due to being so excited! Poor Mum had to drive from near Chichester to Andover in a mini-bus with seven children in the back every morning and evening for four days, both ways through yucky weather and rush hour, to get me to The Hawk Conservancy. She agrees that it was worth it though.
I got the opportunity to be mentored under the supervision of Paul Manning, Lord Montague's Head Falconer at Beaulieu House, and Mike who works with (alongside many, many other birds) the massive bald eagles at The Hawk Conservancy.
I carried a lanner falcon on my glove, practiced flying harris hawks on the training line called a creance, learnt how to pick up and put down a bird, made leather falconry equipment and learned the differences between each sort of falconry housing, mews, weathering and free-lofting, alongside many other topics.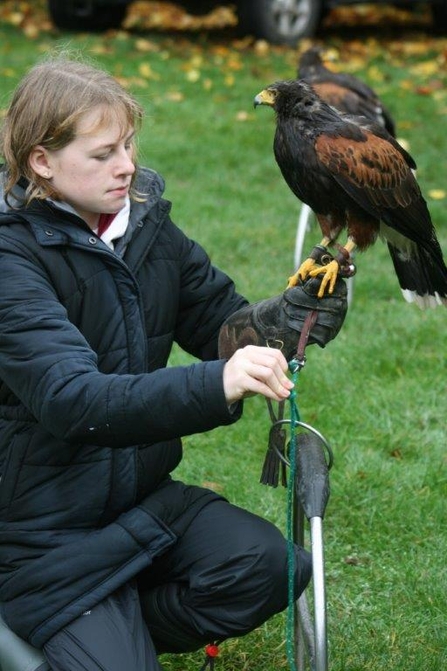 At the end of the course there was a practical test to show that we had accomplished the correct standard of everything we had learnt. This consisted of picking a bird up from a perch and tying them onto my glove, swapping the leash on the bird to the creance ready for flying with two fiddly little falconers' knots, flying the bird, swapping the creance back to the leash then putting the bird down again.
It was tipping it down with rain and I was nominated as the first person to take the test. I really wanted to do well and was shaking with nerves. Thankfully it went without a hitch and I apparently set a brilliant example for the rest of the group to follow.
Convinced I wanted to be a falconer, I started looking for a local breeder of my chosen first bird – a female harris hawk – chosen as I had fallen in love with the three Female Harris's Bonnie, Josie and especially Rue who had been flying for us on the course.
After a lot of fruitless searching for reputable breeders, Mike put me in touch with a responsible breeder of harris hawks, who, by coincidence was rearing a male harris hawk for him (who later turned out to be my bird's brother!). I soon had my name and a deposit on the most beautiful female harris hawk I had ever seen but I had to wait until she was sixteen weeks old in September.
Gaining experience
While waiting for my harris hawk to become less reliant on her parents and so ready to be trained, I spent a few days under the wing, so to speak, of other Falconers. I spent time learning a few different ways of training and gaining experience with other species of birds. These included helping Paul Manning at Beaulieu where I learnt to swing a lure, carry a 'cadge' of falcons and coax a bird off the lure.
I also gained experience at working with young birds early in their training. I helped Kevin from Hawking About and was allowed to help fly his pair of female harris hawks in the local woods. While we were flying them, I was shocked to overhear the many, many people who were watching us while going about their day to day activities.
Not one of them successfully managed to identify the birds we were flying with the most popular guesses being 'pigeons', 'chickens' and 'peacocks'. I was appalled as, even though harris hawks are not native to the UK, they have very distinguishable features that suggest they are birds of prey and yet not many of the people even knew this!
Feeling even more determined to open the eyes of the public to respecting nature, I worked even harder to absorb every scrap of knowledge I could get my hands on.
First bird
The great day came at last. It is one that will stay with me for as long as I will live. The day I picked up my first bird of prey. As the weather, being September, was still rather warm and sunny, we had arranged to pick up my female harris hawk later in the day when it was cooler to avoid the travel box getting hot and stressing my harris out.
Unfortunately, that meant that I had to wait longer until I had the chance to meet her up close. I spent the day rushing around at about a hundred miles an hour making sure everything was perfect and that all was in order.
I did already have everything packed and organised a week in advance, but I was so excited, nervous and ecstatic that I needed to do SOMETHING just to keep me from exploding with the thought of it all! Glove greased and packed. Camera charged and memory card empty. Perch on the lawn in the shade. Bath full of clean water. The list goes on.
We eventually got to the breeders and I immediately spotted my harris. She was sitting pleasantly on the lawn alongside some of the breeder's other birds. She looked amazing.
I was told that she wouldn't have any equipment (anklets, jesses, swivel or leash) on her and to bring some ready to put on her, but it turned out that my harris's brother (who now belongs to one of my mentors, Mike) had been collected a couple of days prior and so they had put my Harris's equipment on at the same time.
The first time I held my Harris I was surprised at how big and curious she was. She stood full height on my glove with her brown eyes level with mine and seemed to be eyeing me as if to say, 'Who are you? Could we be a good team?'
I was so happy I couldn't keep the beaming smile off my face, I was holding my very first, very own bird of prey!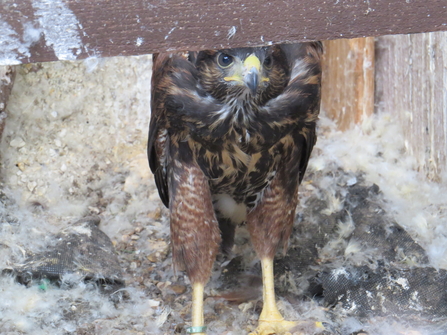 Training Nightingale
I christened my harris hawk Nightingale after Florence Nightingale. The name was my sister Hester's idea as I had explained that my bird and I would be partners and she said that as my name is Florence, the name Nightingale fits. I have since followed this theme of names from famous people for the birds that have followed and become part of my team.
My first step to training Nightingale was getting her to eat off the glove. She had been starved for three days prior to me collecting her as when she was in with her parents, she had been fed all that she could eat to ensure that she grew up properly and healthy.
Because of this she was fat and needed to be carefully dropped in weight, by being weighed every day, using scales, to help me get an idea of her condition relative to her (lack of) food intake. The breeder had been weighing Nightingale for the few days she had her equipment on and so I had a starting point to work from.
To encourage Nightingale to eat from the glove and feel comfortable around me, I sat with her in the garden for hours every day. I would pick her up from her perch, normally with her either flapping around or holding her wings out and beak open in an attempt to discourage me from handling her.
I would then put around three-day old chicks (already dead) on my glove and settle down in a chair with a good book, occasionally giving the food a squeeze with my glove to make it wiggle appealingly and wait.
My aim was to get Nightingale happy enough around me and with everything going on in the garden to look down at the food (and so be confident enough to take her eye off me) and take a bite of it. With me 'reading' (often pretending, more often sneaking glances at her) she thought I wasn't interested in her and so wasn't a threat to her or the food on my glove.
Once she had a small taste, I was hoping that it would whet her appetite and that she would keep going back for more. I remember that I was surprised at how quick and bold Nightingale was the first time she ate off my glove.
I was sitting without a book that evening and I had just introduced Nightingale to my Grandma and Grumpy after her having spent the afternoon bathing on the lawn. I had already sat with her for most of the morning and we must have sat for a good couple of hours in the evening too.
Grandma and Grumpy were just about to leave. I was getting myself ready to put Nightingale back on her perch to wave them off when Nightingale looked at me as if to say 'wait'. I waited and watched as Nightingale peeked down at the food on the glove by her feet.
Nightingale looked shyly back at me again and then without further hesitation bent down and ripped a sizable chunk off the food! I was glowing with happiness!
This essentially wild (having been raised solely by her parents) incredible bird of prey had just taken a huge leap of faith and trusted me enough to take the offered food!
Nightingale finished the whole pile of food and polished off another half a chick. She looked very content and pleased with herself afterwards and settled herself calmly down on my glove, one foot snuggled up under her feathers and surveyed her surroundings.
I realized later that I had held my breath through the whole ordeal. I eventually remembered to breathe again and sat there with my mouth open just watching Nightingale, to shocked, elated and in awe to do anything else!
I sat with her for another few minutes, then, when I couldn't hold it in any more, put Nightingale on her perch. I went to find my family (including Grandma and Grumps who hadn't left yet) and poured out the whole story to them at one hundred miles an hour while hopping from foot to foot and grinning from ear to ear.
Consequently, they didn't understand a word I was saying as I was talking so loud and fast that the words were all being jumbled together. So, I repeated myself and told them the story again, managing somehow to tell it in an understandable fashion!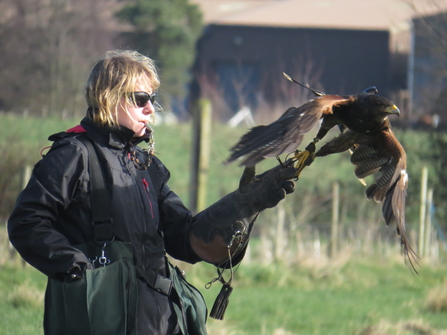 Written by Florence Barker, former Hampshire & Isle of Wight Wildlife Watch member, and falconer.
Connecting with nature through her local Wildlife Watch group helped Florrie discover a passion for birds of prey, a new hobby, a potential career and a desire to educate others about these amazing birds. You could discover your own passion for wildlife and nature by joining and volunteering for your local Wildlife Trust.