I always joke that I must have one of the most random job titles! To most people, it suggests that I give directions to badgers, dragonflies and newts. In reality, I support the lovely young people on the Youth in Nature (YiN) Project in Hull. I help them to make a difference for wildlife as well as transforming their own and their community's lives.
Every day is different (one of the wonderful perks of the job!) but during the summer we get to have more fun than normal. Our sessions take up most of the day, rather than just an hour and a half in an evening.
We (the staff and young people) meet at our equipment store around 9:30am. Some of them walk up to two miles, as well as getting up at, what seems like, the crack of dawn for a teenager, to spend the day with us. When they call us Mum 2 and Dad 2, you get the gist about how they feel about coming to YiN!
It wasn't always like this. These are young people who either had confidence issues, struggled at school, are young carers or had mental health issues. The relationships we have built up has created a little army of young people who love wildlife but also love attending sessions with us.
The day starts off with a bit of a catch up (we haven't seen each other for at least a day and there's always plenty to say!). We discuss what we are going to be doing that day (today is wildlife zone maintenance) and load the minibus up with what we need. Thank goodness they need me to drive the minibus as, otherwise, I think I would be out of a job! We have trained them too well.
We set off to our first zone (it sounds a bit like we are on The Crystal Maze!). I love listening to the young people chat on the bus. It's an excellent time to pick up snippets of information about home lives and their overall wellbeing.
As we arrive at our first destination, Ganton School, they organise themselves into groups to remove the plants that have grown in the wrong place or are taking over the areas of planting (otherwise known as weeds) along with a bit of path work. It always amazes us how quickly plants can grow in a week.
Some sneaky teaching ensues as the group ask the names of the different plants that have appeared, and we tell them some fun facts about them. Turns out Fat Hen is a new one for them and we laugh at the fact there is a group of plants named goosefoot because their leaves look like a goose's foot!
Our wildflower area is flourishing and there are hundreds of pollinators. A blackbird family watches us, waiting to jump in and grab the worms after we have pulled up the other plants we don't need. We marvel at the wildlife that has come to a little area of a Hull school garden that was once barren.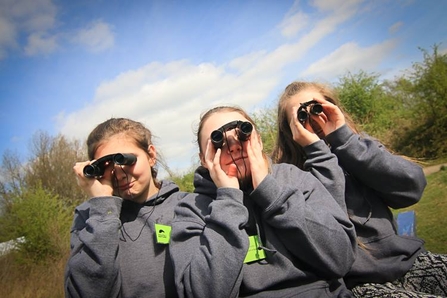 Lunchtime comes around quickly and there's more time to chat. We talk about what's happening in the next session and remind them of times and pick up points. They have a moan that there isn't a session on a Thursday and that they have to wait until Friday to see us!
Onwards to the next zone! This takes us to the first wildlife garden we created at St. Hilda's Church (this is a very deprived corner of Hull). We have planned to do a litter pick and some path cutting as well as some trimming of grass around the planters we had made that contained plants that pollinators would like.
We are pleasantly surprised when we arrive as there is very little litter and there are some areas of long grass. When we first created the wildlife zone, some of the congregation and locals were against long grass areas as it looked 'messy'. Some of us popped into to the lunch club to find out more and others took care of any remaining litter and trimmed around the planters.
It turns out that the congregation have loved the wildflower corridors planted by Hull City Council (HCC) along the road verges and dual carriageways and that they want their own wildflower area! Independently they have been in contact with HCC and are hoping to get some of the seeds that the council used.
We were overjoyed that the community had embraced the wildlife garden and were making it even better! They had also developed the little pond we made and popped more pond plants in. Mission accomplished!
Back to the bus. When you have quiet on the way home, you know you have had a good day! Whilst putting the gear back in the container, some of the group wanted to stay and asked me if there were any jobs.
I was about to write a design request for some interpretation boards. The young people had done some designs in the sessions before the holidays, so I suggested they helped. We whizzed through the form, proving that many hands make light work, and the Yinners came up with some more great information and facts about wildlife!
If I'm not careful, I will definitely become surplus to requirements soon! Then again, isn't that the point? My young people are flourishing against all that is put in front of them.
I concluded yes, that was the whole point; decided I was grateful I was able to drive a minibus and celebrated this fact with a cuppa!
My young people are flourishing against all that is put in front of them.
Written by Sara Booth-Card, Wildlife Coordinator and Forest School Leader at Yorkshire Wildlife Trust.