Amongst the oasis of green in the otherwise sunburnt landscape of rural Oxfordshire, a flash of golden brown movement captures our attention. Striking ears with black tips pointing to a clear blue sky, its angular form elegant. A brown hare.
The small group of us, consisting of both Wildlife Trust staff and donors, stop in our tracks to gaze on in wonder. Neil Clennell leads the group, sharing his extensive knowledge of this reserve, an expert on its intricacies. Bianca Rush guides the special guests.
Sam and I, from the Wildlife Trusts' central office, have tagged along on this special walk. The event was arranged by the Berkshire, Buckinghamshire and Oxfordshire Wildlife Trust (BBOWT) to thank the amazingly generous people who made it possible for them to acquire this 46 hectare patch of land earlier this year.
It's been named Duxford Old River for the nearby hamlet and the lazy curls of river on the north eastern side. That wiggly line marks the route of the old River Thames. There are three donors on the walk with us today, they all donated money to the appeal.
Seeing the hare is a shock of excitement for us soon transitioning into a simple joy. A couple of us exclaim how we hadn't seen a hare for years. Here, in front of their eyes, the donors see the life their money will be helping to protect and revive.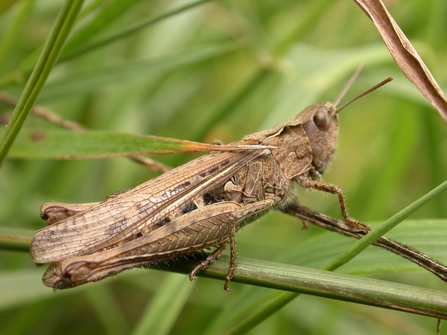 The hare isn't the only wild marvel on our walk. A carpet of crickets and grasshoppers dance at our feet, leaping away with every step we take. I'd never seen that many at once. It was hopeless attempting to identify them. The variety was startling: green, brown and grey with a blur of delicate limbs.  You can hear them too - that characteristic perpetual chirping sound of midsummer.  
The call of a kestrel a field away adds notes to their song intermittently. There are a few meadow brown butterflies about today, though Neil assures us there were hundreds only a week ago.
Duxford Old River is a new section of the much larger Chimney Meadows nature reserve which is 261 hectares. Once upon a time, a third of the reserve was arable farmland drowned in phosphates, the rest was intensely managed grassland. Now it is a mosaic of riverside meadows and pasture fields, interlaced by a network of thick hedgerows and willow-lined ditches.
The new part of the reserve that we are now standing on, south of the river, is still managed as traditional farmland but not for much longer.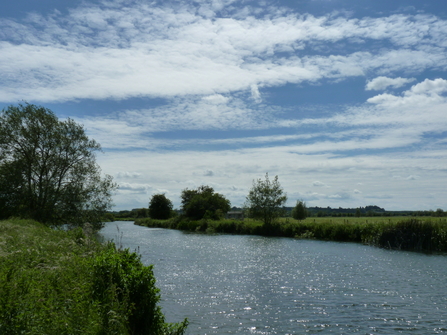 The tale of Chimney Meadows
Chimney Meadows became the key in a much wider challenge facing wildlife when the Trust first took it on in 2003. As a nation, we love our meadows. As a Chimney Meadows visitor describes it;
Nothing lifts the soul as much as going to a lovely meadow, sitting among the butterflies and looking at the wildflowers. It does something to enrich your life.
And yet, in the UK, our original grasslands are few, with 97% lost to us due to calls for more productive farmland after the war.
There's now a battle to bring back some of what's been was lost. An ancient corner of Chimney Meadows is designated as a National Nature Reserve (NNR), as it was left unscathed by modern farming practices. The Trust has managed this rare and magical site since 1999.
Lisa Lane and her team hoped to use seed from this to recreate grassland elsewhere at Chimney Meadows using a method known as green hay. The seeds of the meadow grasses and flowers that thrive here on the NNR, grassland that's survived for 200 years, store the life that can create a transformation elsewhere.
Green hay is so-called because the cut vegetation is collected while still green, and the seeds of flowers and grasses are largely intact. It's taken immediately to the new field where the hay and its seeds are strewn. This process began after BBOWT acquired Chimney Meadows in 2003.
It worked. Delightfully named wildflowers such as bird's-foot trefoil, hawkbits, oxeye daisy, knapweed, crested dog's tail, and sweet vernal grass sprang up. Around 70 hectares of farmland transitioned into meadows.
Unfortunately, this success didn't last long for Lisa, her team and all the volunteers that made it happen. As fields that sit on the banks of the Thames, the grassland is primarily a floodplain habitat. The plants and invertebrates here know how to survive the effects of their home being periodically submerged by water.
However, flooding in the years of 2007, 2008 and 2009, went far beyond the usual. It caused devastation. Species used to some flooding became swamped for months. Plants were smothered and eventually rotted into the ground, wildlife vanished, and the hay could not be cut - a vital step for maintaining a grassland.
Many of the species that had begun to call the reserve home were cast out by the overly-persistent flood waters. Plant numbers went down. The characteristic yellow clumps of cowslips were reduced.  Vibrant green-winged orchids, an iconic flower of other meadows, disappeared.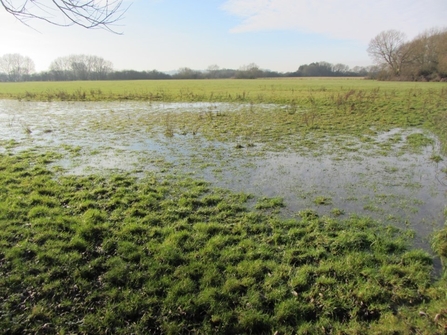 There were no curlews nesting on the reserve in the year following the heavy floods.
But lessons were learnt.  The experiences of these flooding events and the way habitats and wildlife recovered were taken on board. They fed into plans for managing the fields through grazing and cutting hay.
In 2017, the lavish pink of the green-winged orchid was spotted again.
Back to Duxford Old River
In early 2017 those 46 hectares of Duxford Old River that we now stood upon, gazing at a hare and counting crickets, came up for sale. The farm owners were aware this area of land was the least productive for farming and thought an organisation like the Wildlife Trust might get something more out of it.
One of the fields we walked through had been home to a herd of buffalo. A historic species that resemble their ancestors depicted in cave paintings from thousands of years ago. The field had shallow mud hollows, cracked and hard at this time of year.
It was a sign of the farm's once flourishing buffalo mozzarella business. To me the buffalo wallows etched into the ground were an echo of the megafauna that once thrived across Britain. It is an echo of what this place could be if we let it become wild.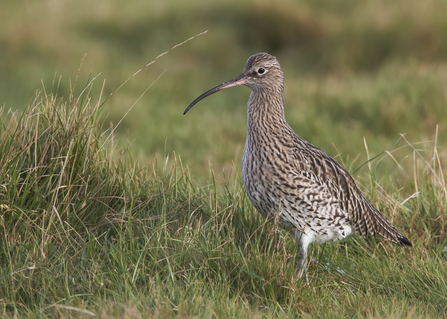 Not that there will be giant animals roaming here. It will be about providing a space for the more common wildlife that already live here, as well as a haven for rarer visitors such as otter and curlew. As one of the donors, Andrea Munn from Buckinghamshire, said: 
These species may be common but if we don't protect them then they will be in decline too.
The brave ones amongst us (thankfully I'd worn long trousers despite the heat) followed Neil into a jungle of nettles and thistles. Insects buzzed amongst the jagged leaves. Banded demoiselles flickered at the tops of the nettles, frequently bouncing down to investigate the stretch of river that emerged from the wild foliage.
 "Botanists and ecologists would say 'so what?' about this place" said Neil. It is just farmland after all, similar to many stretches of the countryside. It's clear that doesn't matter to Neil though. He sees it for what it truly is and what it could be. In 10, maybe 20, years the nettles will give way to a unique ecosystem all of its own.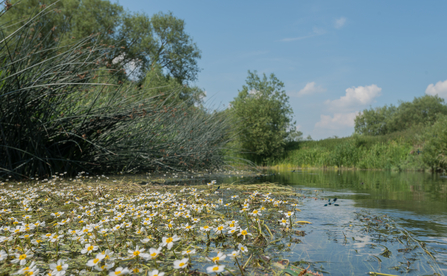 Otters live in the old river that remains in its natural state. It's potentially one of the few stretches of river in the UK not edited by humans. Huge flocks of lapwing and golden plover overwinter in the fields. Foxes patrol rabbit burrows in broad daylight. It's a favourite hobby hunting spot. Hares investigate instead of fleeing, having never seen people before.
In the summer of 2017 BBOWT had the rare opportunity to buy this chunk of farmland that sits like a jigsaw piece next to their existing reserve. A chance to add another jewel to the crown of the Chimney Meadows reserve.
They took the risk and ran an appeal, calling for funds. It was a different approach that might not have worked. Wildlife Trust appeals tend to be cries for help. They are urgent requests for support to save a threatened habitat or rare species. In contrast, Duxford Old River was, in ecological terms, nothing special. Yet it could be. The only way is up for a place like this.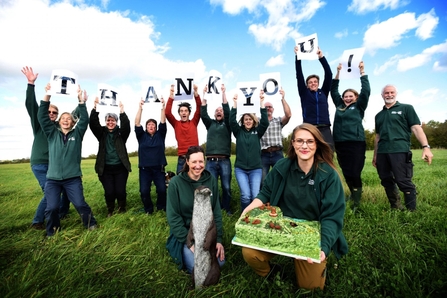 Neil said:
The plan to let nature lead the way seemed to strike a chord in 2017, a summer of political uncertainty.
Support poured in from members, supporters, local businesses and grant funders.  Until finally, they reached the target of £575,000 to buy Duxford Old River in time for payment day.
Happily ever after
Now Duxford Old River is a part of the Chimney Meadows nature reserve. The wildlife that already thrives there is safe. A new haven exists for other species to move into, such as short-eared owl and water vole.
BBOWT have begun planning their next steps. They will be surveying to see what creatures already call it home.  Once they know what's there they can start working with the Environment Agency and others to see what interventions they can make to help nature along. Plans are not set in stone, but the aspiration is to leave it mostly unmanaged, letting nature decide how it should be.
Duxford Old River gives BBOWT the opportunity to try something different and beyond any constraints at Chimney Meadows. It is a new blank canvas where they intend to let nature take the lead.
As we look on, the golden brown hare leaps forward, and gallops away disappearing into the undergrowth, its future certain.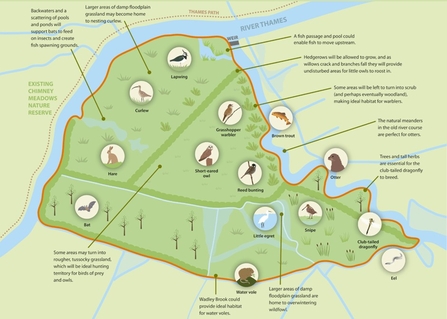 Written by Sally-Ann Smurthwaite, Internal Comms and Stories Officer, with support from the team at Berks, Bucks & Oxon Wildlife Trust